The need for fortification at Beacon Hill in Harwich can be dated back to Roman times, although it was not until the 16th century that any buildings were constructed. The first was a small blockhouse, abandoned after only ten years. A later second blockhouse suffered a similar fate.
Serious construction work began in 1804 with the strengthening of the entire southern and eastern coastal defences as a direct response to the threat of Napoleon. A small fort was constructed, with the Harwich redoubt close by. By 1812 a further battery had been added to the defences on Beacon Hill. Unfortunately, this battery was destroyed not by enemy action but by erosion, and no replacement was built. In 1853, following an extensive overview of national defences, the only area of the Beacon Hill fortifications that it was deemed worthwhile was the redoubt, which was comprehensively rearmed in the 1860s, in the light of the renewed threat of French invasion.
As the nineteenth century drew to a close, the Beacon Hill defences were considered obsolete and outdated, and work on a new fort began. The enormous changes in warfare and weaponry radically changed the way that the new fort was constructed, and the armament used to defend it. Great care was taken to ensure that the fort could easily and effectively be defended from the landward side, as this was the direction from which an assault on the fort was expected to come.
The advent of aircraft and aerial attacks during WWI brought about the need for anti-aircraft artillery, which arrived at Beacon Hill in the form of two one-pounder automatic guns. Following the Armistice the fort was decommissioned and sold to the local council; all armament was removed.
With the outbreak of WWII in 1939 it was clear that Beacon Hill had to be reinstated as an active defensive fortification, but it wasn't until 1940 that construction work on the new Cornwallis Battery began. This consisted of guns to repel naval attack, with the added installation of a Bofors gun to provide AA cover.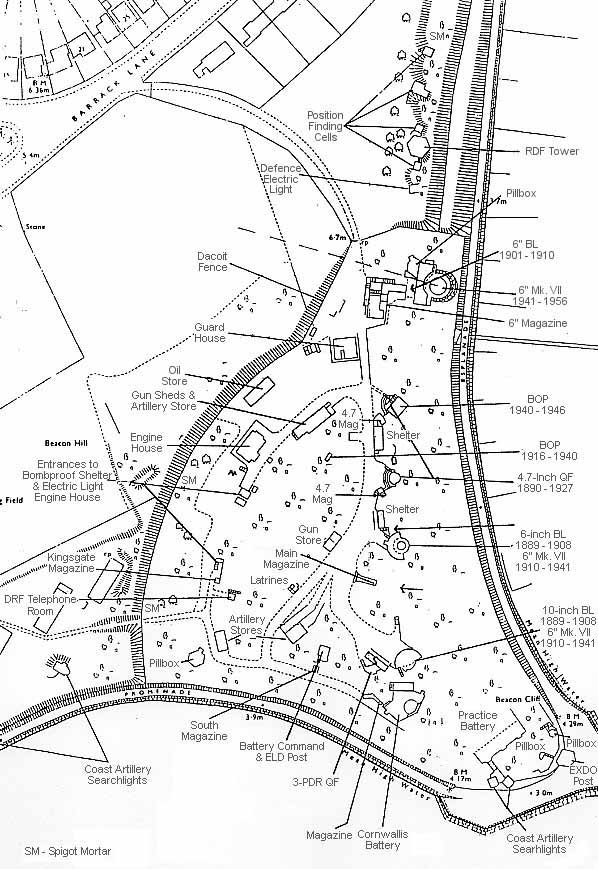 Location: Harwich, Essex
Condition: Poor
Date Of Visit: 14/11/04